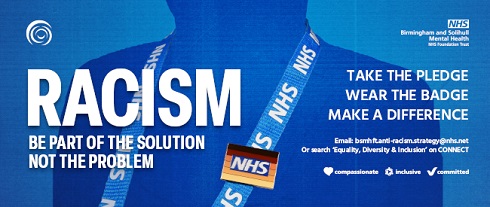 Published: 24/05/2022
BSMHFT is working towards becoming an Anti-Racist Organisation, where all of us, despite of our Race has equal opportunity to training, development and progression. We should all feel safe and confident to be ourselves at work, and that our individual needs and strengths are recognised.
On the 25th of May 2022, we launched our Anti Racist Campaign. This day was extremely significant as it was the 2nd Anniversary of the death of George Floyd. Two years on the Black Lives Matter movement continues to campaign against racism.
At Team BSMHFT, we will be held accountable for any discriminative behaviours or actions towards our colleagues, service users or carers. This strong campaign addresses an issue that has been prevalent for too long, highlights the impact of racism on those around us, encourages us to take responsibility and supports us to take three key actions:
Take the pledge
Become an Active Bystander
Wear the badge
BSMHFT have zero tolerance towards any forms of racism. Our Trust is a No Hate Zone: Racism is a choice we make every day. Make the right one. Take the pledge. Wear the badge. Make a difference.
Please note this specific campaign related to race does not mean we underestimate in any way the severity of any discrimination a person within the other protected characteristics identified within the Equality Act 2010 may experience. As part of the campaign, we are committed to BSMHFT being a NHZ – No Hate Zone, that means no form of discrimination is acceptable or tolerated by us.
Active Bystander training 
Being an Active Bystander means being aware when someone's behaviour is inappropriate or threatening and choosing to challenge it, or by assisting someone who needs support. The training runs on a monthly basis and will be facilitated by two experienced trainers to help guide and navigate conversations around race, identity and tackling inequalities.
For further information please contact the Equality, Diversity and Inclusion Team on bsmhft.edi.queries@nhs.net