Are you looking for a dynamic and rewarding place to work in Birmingham and Solihull? We could have the opportunity for you! We are among the largest and most complex mental health NHS foundation trusts in the country with over 40 Trust sites.
As an employee you will enjoy a range of benefits as well as ample opportunity to gain skills and knowledge of wide and varied mental healthcare, including specialist services, which will enable you to progress and specialise within your chosen fields.
You don't have to be a frontline clinician to work for us; we offer a range of roles including Administration, Information Technology and Housekeeping to name a few. As well as employment, we also offer a number of clinical and non-clinical apprenticeships, work experience placements and voluntary positions.
We are an inclusive and supportive employer!
Take a look at BSMHFT Recruitment page on Facebook and Twitter.
We very much look forward to welcoming you to our Trust, and supporting you in all ways possible to exceptionally fulfil your potential to provide the best quality care for our service users.

Dr Fabida Aria, Executive Medical Director
Our current vacancies
Come and join Team BSMHFT. All our vacancies, including temporary staffing opportunities, are listed on the NHS Jobs website:
Search and apply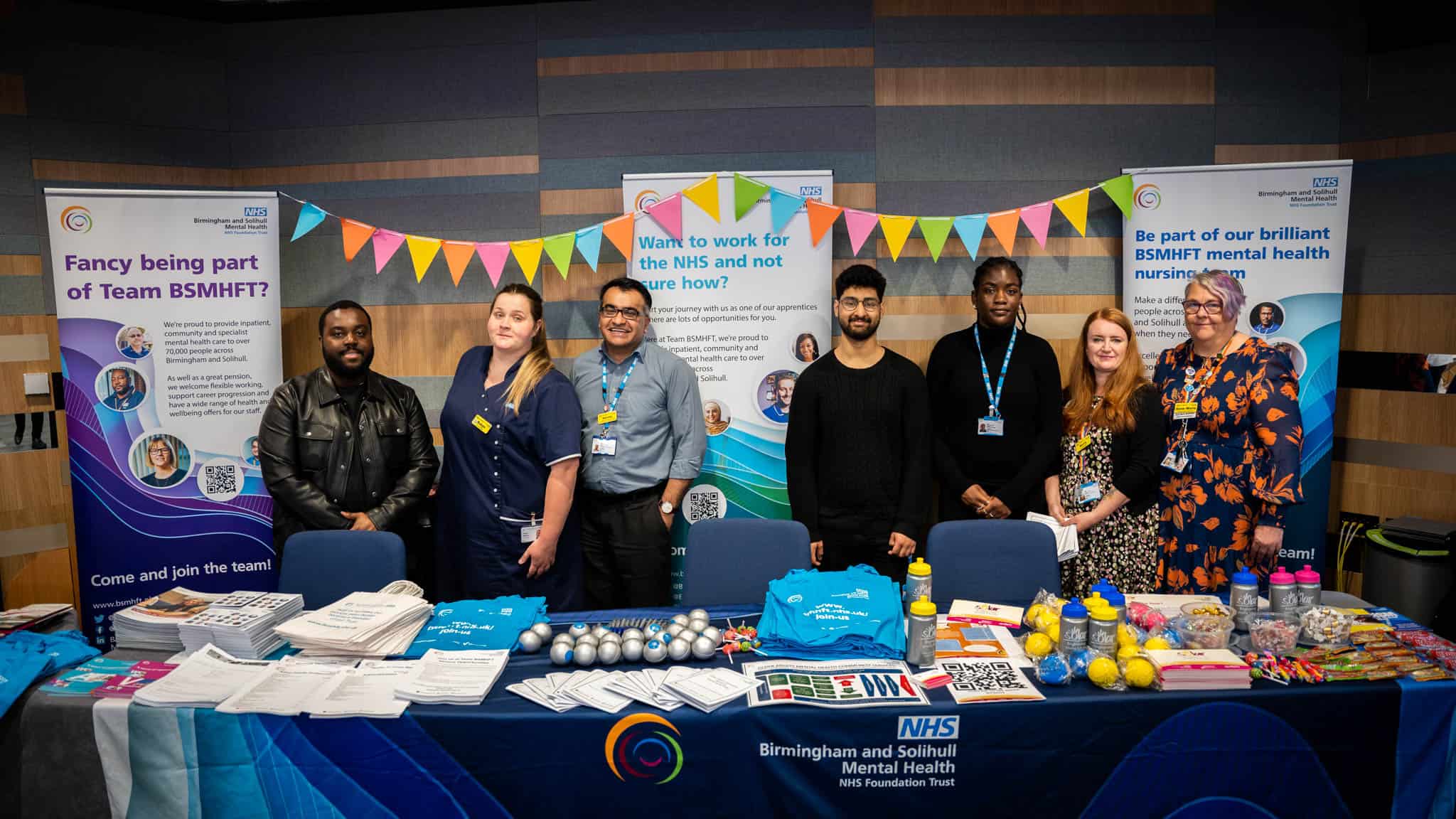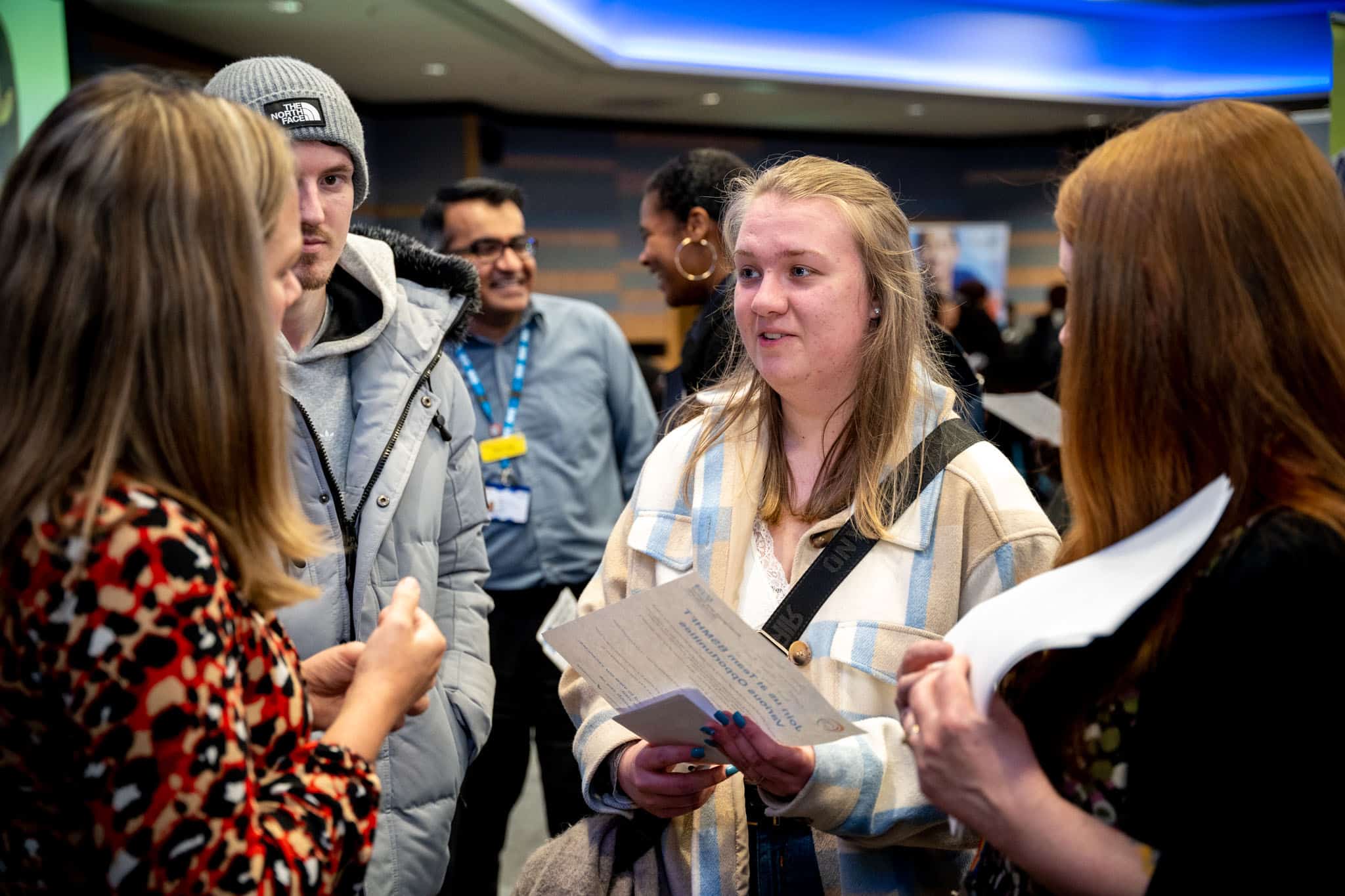 Our careers
Nursing
We look forward to welcoming you into our skilled and diverse nursing team at BSMHFT. We are proud to be able to offer a wide range of nursing opportunities across our services where the patient is truly at the heart of all we do.
We are proud to be able to offer fantastic learning and development support throughout all levels of nursing, from an excellent student placement offer, preceptorship programme and pot-registration learning. With a supportive team of clinical educators there is real opportunity to grow.
We have a strong nursing leadership structure with opportunities to further your career into roles which have quality and patient safety at the core. Teams are well supported through experienced Matrons, Head of Nursing and AHP's and robust corporate nursing team to wrap around and enhance the care we deliver to our patients from both a mental and physical health perspective.
We are currently working on the development of our Nursing Strategy, which will provide clear direction on our priorities as a nursing team, this will be developed alongside all of our nursing colleagues to ensure that your voices are heard and incorporated into developing and delivering our key objectives. There will be a focus on some of the key challenges facing our nurses at this time which includes workforce, career development and quality and safety of patient care.
Working for BSMHFT will provide you the opportunity to flourish in your nursing career as we are able to offer a variety of career pathways across the wide-ranging services we deliver to a demographically diverse community. There are excellent opportunities for innovation, creating change and co-production throughout the organisation and this is an exciting time to be joining our nursing family.
Medicine
We are the largest teaching Trust for medical undergraduate psychiatry training with over 450 students enjoying placements with the Trust each year.  We also deliver high quality post-graduate training at Foundation, Core and Higher Specialist training levels.  Further information about our medical training programmes can be accessed on the Health Education England West Midlands website.
We employ around 140 Consultant Psychiatrists and 60 middle grade Associate Specialist and Specialty Doctor Psychiatrists across a range of inpatient, community and specialist mental health services. Services include elements of rehabilitation, crisis and home treatment, assertive outreach, early intervention, addictions, day services and mental health wellbeing.
Our catchment population is ethnically diverse and characterised in places by high levels of deprivation. This provides opportunities for innovation in engaging people and addressing health inequalities. There are ample opportunities for special interest sessions, involvement in research and quality improvement, management, teaching and training.
New doctors are supported with a comprehensive induction programme and the West Midlands RCPsych mentorship scheme. We also have a fantastic CESR programme, aligned to the SAS Charter to help our doctors progress their career and gain Specialist Registration.
Administration and Management
NHS administrative staff provide business support to clinical and non-clinical staff. We have many roles within our Trust in our supporting Corporate functions of HR, Finance, IT, Communications, Estates and Facilities as well as within our clinical services. Each role will require a unique set of skills but all have one common purpose: to support our clinical staff and services to provide the best service user care possible.
Careers in healthcare management and leadership can be very rewarding offering unrivalled opportunity and variety in progression along the NHS career pathway. Whether this may be in Clinical Management, General Management, Estates, Finance, HR, Projects or in Operational Management.
Allied Health Professionals
We look forward to welcoming you into our thriving AHP community here at BSMHFT. We deliver specialist, recovery focussed interventions across the organisation and co-production is at the very heart of everything we do.
We have a supportive professional leadership structure and use our AHP networks to promote and deliver needs of the service users for both mental and physical health recovery. Leadership is embedded at all levels of the organisation, and we have strong Executive Board representation from Sarah Bloomfield, Chief Nurse.
To overcome the challenges of working in a large geographical region we strive to keep our AHP community well connected through CPD events, AHP conference and our dedicated AHP professional forum (AHP AC).
As part of building our future workforce we are also committed to providing pre-registration training across all the pathways and professions and are local trailblazers in the move towards Apprenticeship programme for AHPs. We have a dedicated team to support AHP placements and practice development and are proud of our achievements in increasing our specialist mental health placements.
You will also find great opportunities for learning and development and opportunities for expanding into extended, and non- traditional clinical and leadership roles. As well as our core mental health services, we have AHPs in highly specialist areas such as Neuropsychiatry, Deaf Services, Perinatal and Personality Disorders Pathways. As well our valuable registered clinicians we have an expanding and dedicated support worker workforce who support our recovery interventions. Opportunities to join the team in all these roles can be found at NHS jobs and on our Trust website.
To tell you first hand what we do and how great it is to work at BSMHFT, please view these videos made with our AHP teams:
Psychological Professions
Welcome to our Family of Psychological Professionals. We look forward to working with you to develop your talents in providing expert quality care for our service users and compassionate support for our colleagues and each other.

Dr Sunny Kalsy-Lillico
Chief Psychologist
We are one of the largest employers of Psychological Professions in the West Midlands region and we are strongly committed to supporting colleagues at all stages of their career to provide high quality psychological practices. We are also one of the only NHS providers of the Low Intensity Psychological Interventions training programmes, who are accredited to train Psychological Wellbeing Practitioner for NHS Talking Therapies services.
We employ over 500 Psychological Professionals, from those who are in aspiring roles to training roles to our Consultant body who are highly expert in their inpatient, community and specialist mental health services. We are committed to developing an even more diverse representation of our Psychological Professions workforce with a strong focus on mental health wellbeing. This reflects our ethnically diverse geographical patch and also enables colleagues to access a range of opportunities to be involved in developments to address health inequalities, research, leadership, teaching and training and the health and wellbeing of our workforce.
So, come and join us, together we can make a real difference for the communities we serve.
Further information about the diverse occupational groups within our Psychological Professions family can be accessed on the Psychological Professions Network website and associated career map pages.
Our offer to you
Flexible working
With unashamed pride we say that our biggest unique selling point for working for us is our offer of flexible working.
We are committed to offer a range of flexible working options as part of your standard working arrangements. Some examples of our flexible working options are described below.
Part-time working
Working less than full-time hours (usually by working fewer days).
Flexible hours – within service requirements, we can be flexible with start and end times for work.
Term time only contracts – allows you to work in term time only but be paid throughout the year in equal monthly payments.
Compressed hours – working full full-time hours but over fewer days.
Job sharing – two people do one job and split the hours.
You can discuss with your ward manager the options for:
long day shifts (3 x 13 hours shifts a week)
short shifts
set working days and flexibility in start and finish times through the option of twilight shifts (4pm to 2am).
Work-life balance
We are committed to creating a working environment where you can successfully balance your working and home lives. We understand that traditional work patterns do not suit everybody. We aim to be as flexible as possible, considering options that include variable hours and part-time working.
Health and wellbeing
We believe in looking after the health and wellbeing of all our employees and workers. We take health and wellbeing seriously. There is support and advice from our occupational health provider, this includes 24-hour confidential and independent information and emotional support and more.
Starting salary
We offer competitive rates of pay and our reward and recognition systems operate in an equitable, fair, transparent, and objective way. Our pay scales include pay progression.
New employees normally start at the bottom of the appropriate grade, although the recruiting manager can recommend a higher starting salary by considering relevant skills and experience.
Pension
As soon as you start with us, you will automatically become a member of the NHS Pension Scheme, if eligible.
The NHS Pension Scheme continues to be one of the most comprehensive and generous schemes in the UK. Benefits are secure and guaranteed by the government. The scheme provides values protection for your family, including life assurance and a pension if you are too ill to work.
Annual leave
We have a generous annual leave entitlement of 27 days per year, rising to 29 days after five years' service and 33 days after completing 10 years' service. In addition, you will be entitled to eight bank holidays per year. Leave is pro-rata for part-time workers. If you've been employed by the NHS before joining us and your previous service is counted towards your higher leave entitlement.
Car Scheme
Lease car scheme available – subject to eligibility criteria or other staff benefits including cycle to work scheme, discounts to major high street chains.
After you joined Team BSMHFT
Our Trust aims to support all to grow and flourish within their role by accessing training or other interventions that enable them to develop. Our Learning and Development Team focuses on ensuring that the offers they provide are relevant to the workforce and that every one has equitable access.
Post corporate induction, you will be supported to complete any statutory and mandatory training required, to access offers first line manager support and there is a wealth of offers advertised in our Trust Training prospectus that you can browse to find courses that are relevant to you and your role.