Our SIAS colleagues have achieved hepatitis C micro-elimination in Solihull in just nine months following a series of successful campaigns.
Hepatitis C (hep C) is one of the most common blood borne viruses in the country. If left untreated, it can cause serious and potentially life-threatening damage to the liver.
In a bid to eliminate hep C by 2025, Solihull Integrated Addiction Service (SIAS) used a series of targets to make sure that clients in their care were being diagnosed and getting the treatment they needed quickly and easily, this is otherwise known as micro-elimination. When we say an area has micro-eliminated hep C, that means:
🩸100% of people using the service have been offered a hepatitis C test
🩸90% of these people have then been tested
🩸75% of people who were diagnosed with hepatitis C have started treatment
SIAS colleagues Ben Smith and Sarah Keeling took control of micro-elimination and in December 2022, when SIAS were loaned a Cepheid machine for three months, targeted testing began.
Together, the team at SIAS held events as part of the 'Hep C U Later' project, founded by NHS Addictions Provider Alliance (NHSAPA). Targeted events like 'Love Yourself, Get Tested' on Valentine's Day, outreach to clients in their homes, community testing and working closely with those who are vulnerable to blood borne viruses such as injecting drug users.
In just nine months they completed 211 hep C tests and were able to achieve micro-elimination in the borough. They are the 15th NHS provider in the country to achieve this prestigious title.
Sarah said:
"Our work does not stop now, we need to maintain this and so have rolled out a simplified testing process to all staff with Ben and I acting now as co-ordinators and support."
Hepatitis C is preventable, treatable and for most people, curable. Effective antiviral drugs can cure more than 95% of people, with minimal side effects, which means that it can be eliminated. Quick and free confidential testing and treatment is available to all patients on the NHS.
Please visit SIAS' website today to get the help and support you need.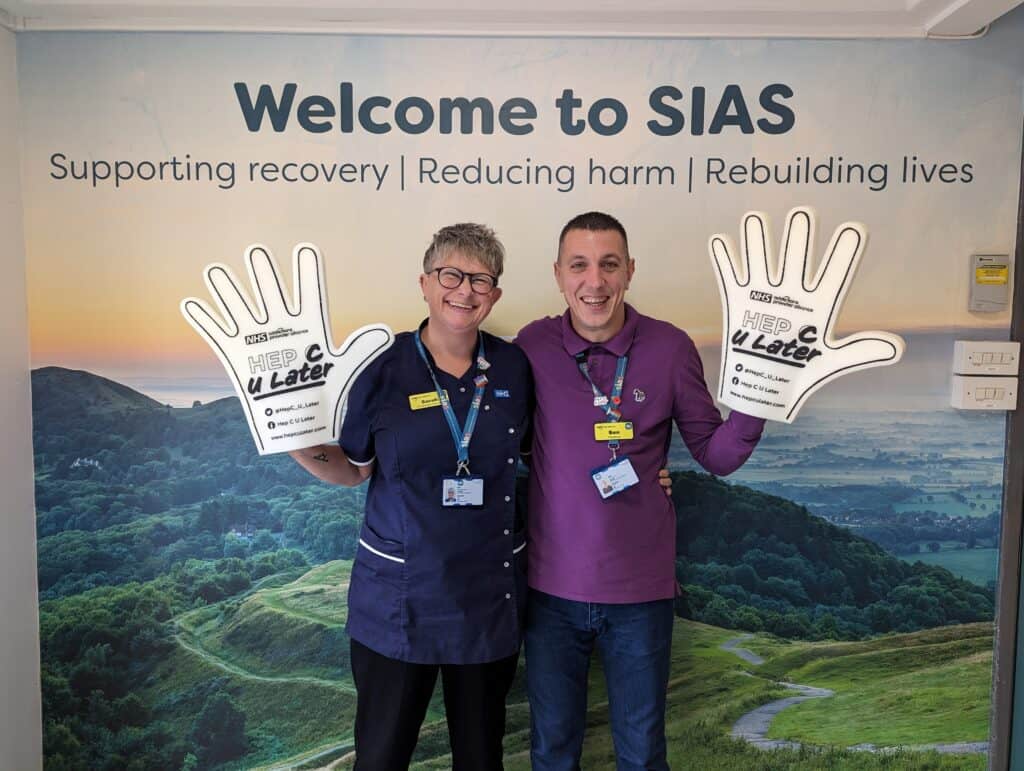 Published: 19 October 2023