David Jones nominated Toni Murray, Nurse at Reaside, for a staff shoutout during Black History Month. He said: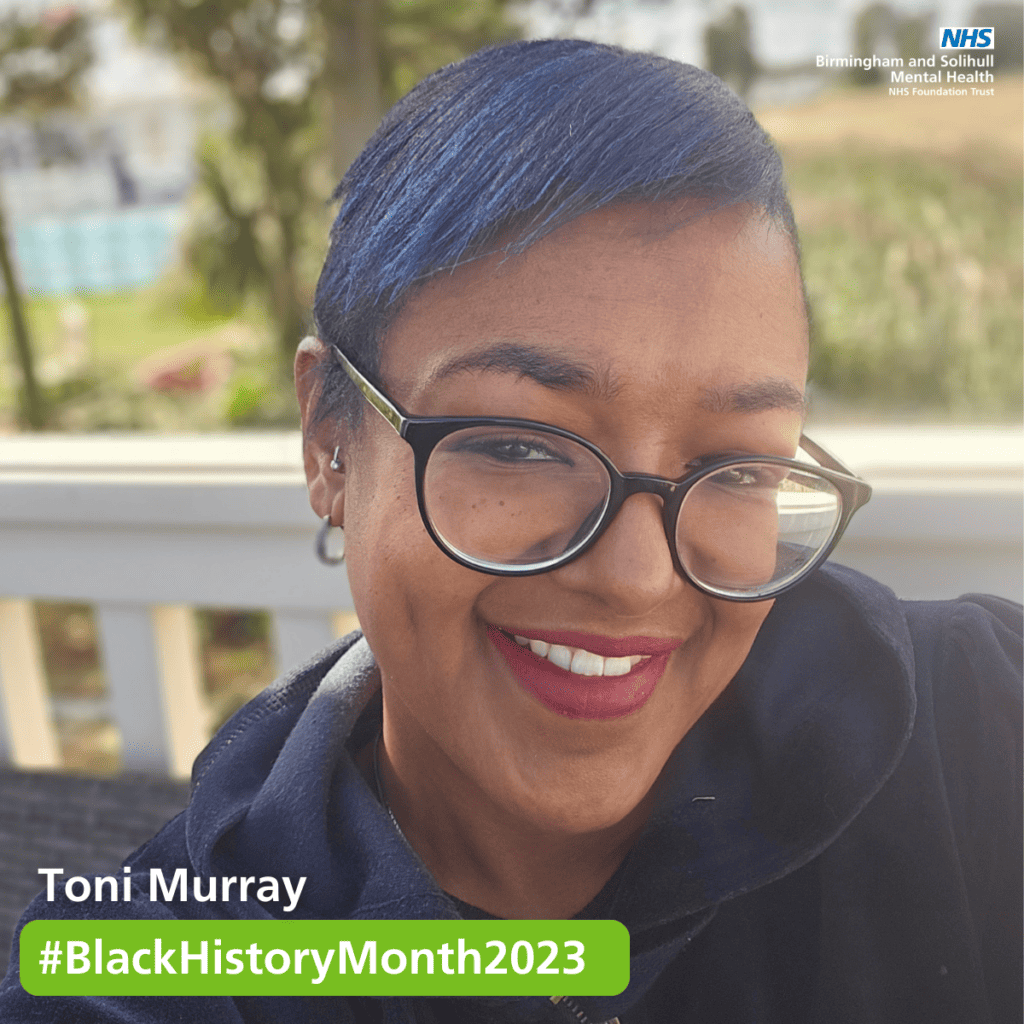 "Toni has consistently been a passionate advocate for the service users she works with. She enthusiastically speaks with the different members of the team and is active in trying to improve the quality of life and engagement of those in her care. Her awareness of the need for diversity and the risks that are presented when individuals don't feel represented are frequently a central theme in our contacts, and she is continually endeavouring to network with others to link her work to her interests and passions to improve the quality of both. At a time when many in the NHS are experiencing compassion fatigue and are struggling to hold on to such a central part of their role, Toni is still managing to energetically embody what it is to be a nurse."
Toni was asked about her heritage and said:
"Being a Black British female who has grown up and lived in both predominantly white and majority ethnic communities offers a unique perspective and set of experiences. My possession of a British accent, often associated with "Western privilege," allows me to navigate situations where my skin colour might not immediately be apparent, challenging stereotypical expectations. This blend of ethnicity and cultural values becomes a cornerstone of my British identity, one I proudly wear on my sleeve. This rich tapestry of influences and backgrounds makes me relatable across various socio-economic strata, fostering an ability to build rapport with individuals from all walks of life while remaining non-judgmental. As a result, I can engage reciprocally with service users, their families, and staff, creating meaningful connections that bridge divides and promote understanding. My experience as a Black British female serves as a testament to the diversity and inclusivity that defines contemporary British society.
In regard to my heritage, I am of Caribbean descent, with roots tracing back to the vibrant and culturally rich islands of Jamaica and Barbados. My heritage is a source of immense pride and personal significance. It represents a tapestry of traditions, values, and experiences that have shaped my identity and continue to influence my perspective on life.
What stands out most to me about my heritage is the profound sense of community and connection it embodies. It's a heritage steeped in resilience, creativity, and a strong spirit of unity. Celebrating my family's history is a joyous occasion, as it reminds me of the remarkable journey and sacrifices made by those who came before me. This history serves as a source of inspiration and a reminder of the importance of perseverance in the face of adversity.
Another aspect I cherish most about my heritage is the vibrant and diverse cuisine. From the mouthwatering authentic, rice and peas and chicken, native of the Caribbean, to Jamaican Escovitch Fish paired with Bammy, to the comforting aroma of traditional Bajan cuisine of Cou Cou and fried flying fish. The flavours and dishes of the Caribbean bring people together, creating unforgettable moments of shared culture and culinary delight.
I am the second child of eleven, born into a large and nurturing matriarchal family. My father is a twin and has nine siblings, while my mother is one of eight children. This familial backdrop has offered me inspirational experiences of being caring, compassionate, and inclusive. The importance of family bonds, respect, and support has been ingrained in me from an early age, shaping the way I interact with others. Moreover, having a younger sister with a physical disability and a younger sister and a younger brother with mental health conditions, and myself and other family members having invisible disabilities (Neurodiversity), has taught me the importance of inclusivity and adaptation. My family has consistently gone above and beyond to ensure that my siblings can experience the same joys and opportunities as the rest of us. It has instilled in me a deep commitment to inclusivity, both in my personal life and in the workplace.
Coming from a large matriarchal family, I have had the privilege of learning valuable life lessons from both sets of grandparents who came to the UK as part of the Windrush generation. My maternal grandmother was a truly remarkable and ambitious woman who played a pivotal role in shaping my values and character. She took great pride in her role within the NHS, having studied in England to become a Psychiatric Nurse working in the asylums in Birmingham. Her determination and dedication to her profession, while having only two children in England with her whilst working to send money back home to her children to be looked after in Jamaica, continue to inspire me every day. Her story is a testament to resilience and determination. My grandmother, with her unwavering support and encouragement, has been a constant cheerleader throughout my life. When I was at school, she always said that I was destined for greater things, and her belief in me has been a driving force in my journey. Her influence has been instrumental in my journey, as she consistently encouraged me with her famous words, "If a job's worth doing, it's worth doing to the best of your abilities."
Published: 17 October 2023