Today we are shining a spotlight on Donnerly Brotherson-Sahota, Ward Administrator for Lobelia Ward. Donnerly was nominated by Deborah Deery-O'Connor, Health Care Assistant. Deborah said: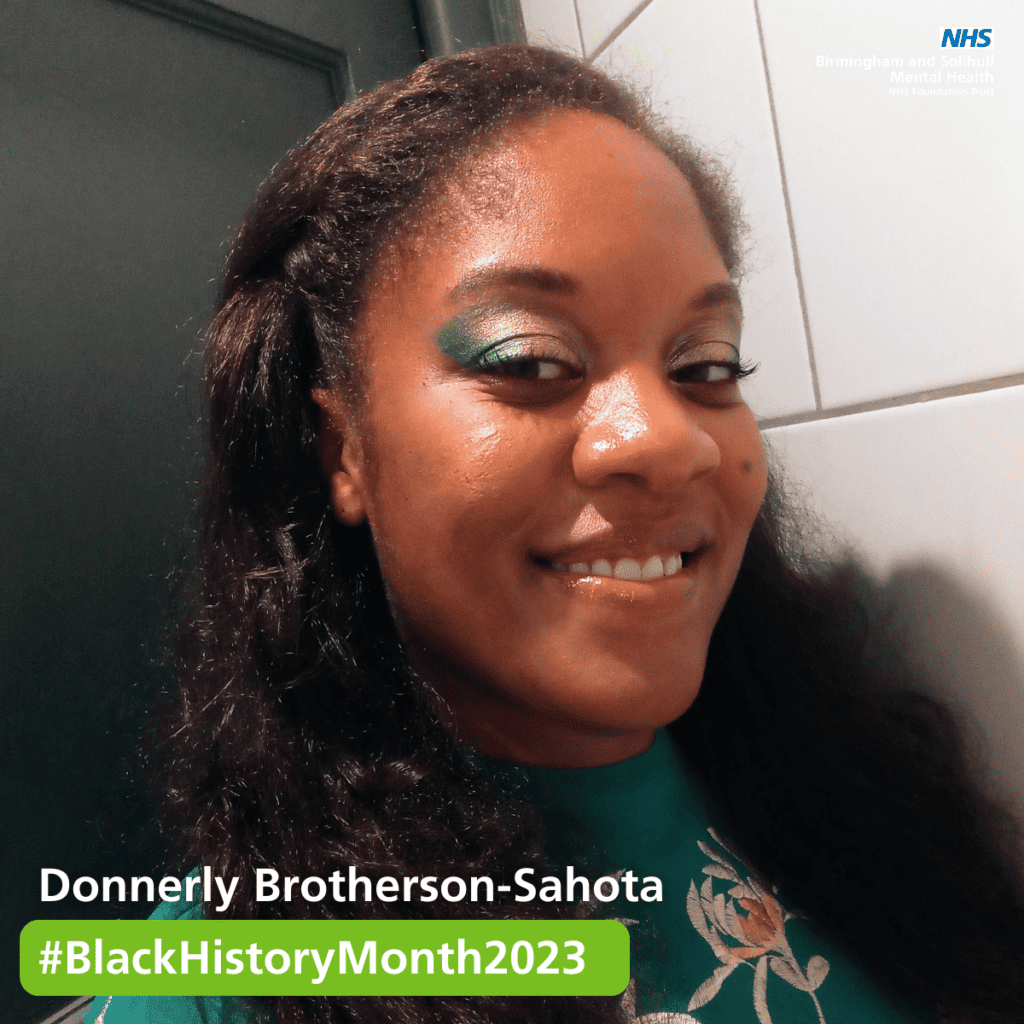 "Donnerly always finds time to listen and support her colleagues, she always greets us with a smile and a genuine interest in how we are. Donnerly is the heart of Lobelia and is always greatly missed when she has been seconded to other departments within the Tamarind Centre."
We reached out to Donnerly to let her know of her staff shoutout and for her to tell us a little bit about her heritage, here's what she said:
"I'm not gonna lie, I had a short sharp shock when I found out I'd been nominated, but it's nice, and very humbling to be considered, and recognised as someone who makes a positive difference to others, even in just a small way, so thank you!
"I was asked to write a "small" paragraph about my heritage… well for those of you that know me, you know I'm no good at being brief, so here goes if you'd like to know more…
"My family mainly hails out of the West Indies' Leeward Islands of St. Kitts and Nevis, also known as SKN, and Antigua. We also have family out of Cuba. Having visited St. Kitts a number of times including spending a short stint living out there, I consider it my second home and love when I'm amongst those on the islands (the Kittitians and Nevisians). I fully immerse myself in island life when there and one of my favourite things is to hear the Kittian or any other Caribbean accent, dialect or language. It just really makes me smile. It is full of friendly people, and the pace of life is relaxed. I can't say how many times I've been reminded to 'slow down' or 'take my time' by smiling strangers, and I wasn't even rushing. Sadly, some of the islands' history could be described as gruesome, but I would say out of it came people with a joyful disposition, and a rich, vibrant culture.
"Music and the arts are a huge part of Kittitian life, and it was there that I learnt the art of throwing pottery. Local artists making beautiful batik, jewellery, paintings, wood carvings and other creative pieces are easily found. Though the island of St. Kitts is considered very small, it has several universities including that of medicine and health sciences and of veterinary medicine, as well as having links to other higher education institutes internationally.
"Of course, you can't talk about Caribbean islands, without talking about the hot hot hot weather, the gorgeous beaches, food and drink. Johnny cakes, banana or sweet potato fritters, red pea stew, roti and chicken curry. Coconut and guava tarts, soursop drink, mauby, sorrel, carrot juice. Carib beer, Ting, Ginseng Up… I love it all. All can be enjoyed while relaxing (or limin'), wherever you are and whoever you're with."
Published: 5 October 2023