Today, we are celebrating Esther Kiilu, Advanced Clinical Practitioner in our Neighbourhood Mental Health Team South. She was nominated by Katherine Rowlands, Hub Manager who said: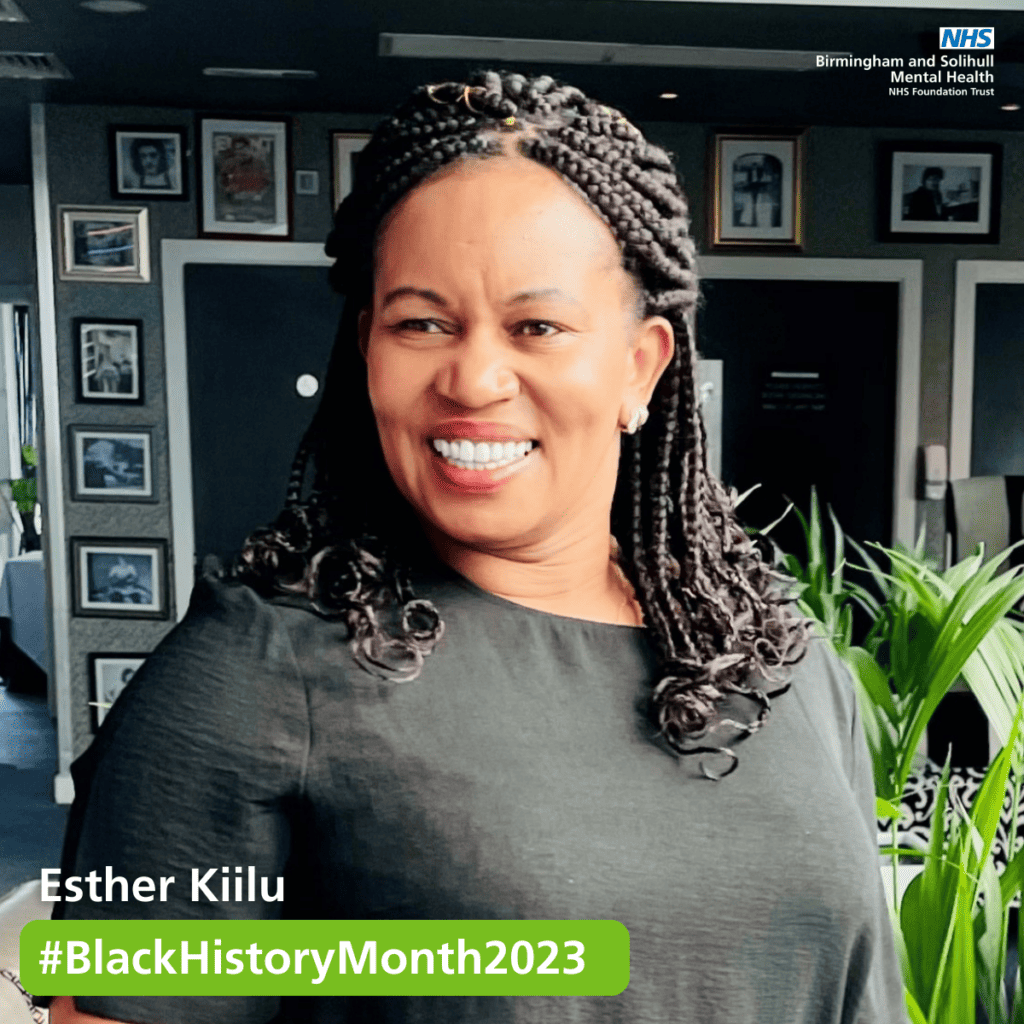 "Esther is an incredibly hardworking and dedicated member of the Neighbourhood Mental Health team. She supports colleagues by sharing her knowledge and skills. She is welcoming to new staff members and supports them in clinical assessments and supervision. She always brings an energy and joy to the team. Patient care is at the heart of what she does. We have been fortunate enough for Esther to share her Kenyan culture with us. Thank you, Esther, for everything you do!"
Esther wrote to us to tell us a little bit about her Kenyan heritage, she said:
"Kenya also known as 'the pride of Africa', (capital city Nairobi) is found in East Africa. It has a population of about 53million. Some of the key aspects of Kenyan culture include family as it is a major factor when it comes to identity, a sense of belonging and security. We identify with our tribe or ethnic group but here in the UK some Kenyans wear a bracelet with Kenyan flag colours which is always a great opener when you spot someone wearing one.
We are also proud of our individual native language. Swahili is the national language, but English is the only language used for school lessons from kindergarten all through higher education. As Kenyans, we are also proud of our food – Ugali being the staple food – made of maize flour, accompaniments include fried green vegetables (spring greens, spinach) and meat. In the UK we celebrate our culture by gathering annually in London in the summer at an event called Kenya and Friends in the Park and locally in various cities in other times throughout the year for social activities, sharing food and fellowship as religion forms a big part of our culture.
A few interesting facts about Kenya:
Britain is the biggest importer of Kenyan tea and cut flowers. Kenyan tea is known for its distinct flavour, colour, and aroma. It is a firm favourite among the 100 million cups of tea consumed a day by British people.
Next time you buy a bunch of cut flowers, take a look at where they have come from as Kenya is the world's third-largest exporter of cut flowers and supplies 10,000 tonnes of flowers to Britain. Kenya is most famous for roses and carnations.
62 languages are spoken across Kenya. In addition to Kenya's two official languages of Swahili and English, there are 62 other languages which are used by different ethnic groups across Kenya – including the Bantu and Nilotic languages.
Kenya is home to world record breakers. Kenya is famous for long-distance runners. Notable record holders include Samuel Wanjiru who won the Olympic marathon title in Beijing in 2008, Martin Lel – three time London marathon winner, Eliud Kipchoge won the marathon (26.2 miles) in 2022 in 1:59:40 and beat his own previous world record by 30 seconds.
Kenyan wildlife and safari. Every year between June and September, over 1.2million wildebeest and 300,000 zebra along with topi and other gazelle move in a constant cycle through the Serengeti national park and Maasai Mara ecosystem in search of nutritious grass and water. This is a sight to behold should you ever wish to visit Kenya on safari."
Published: 6 October 2023