Catherine Brooks, Art Psychotherapist nominated Kenysh Charles, Art Psychotherapist for our Community team and Perinatal services. Catherine said: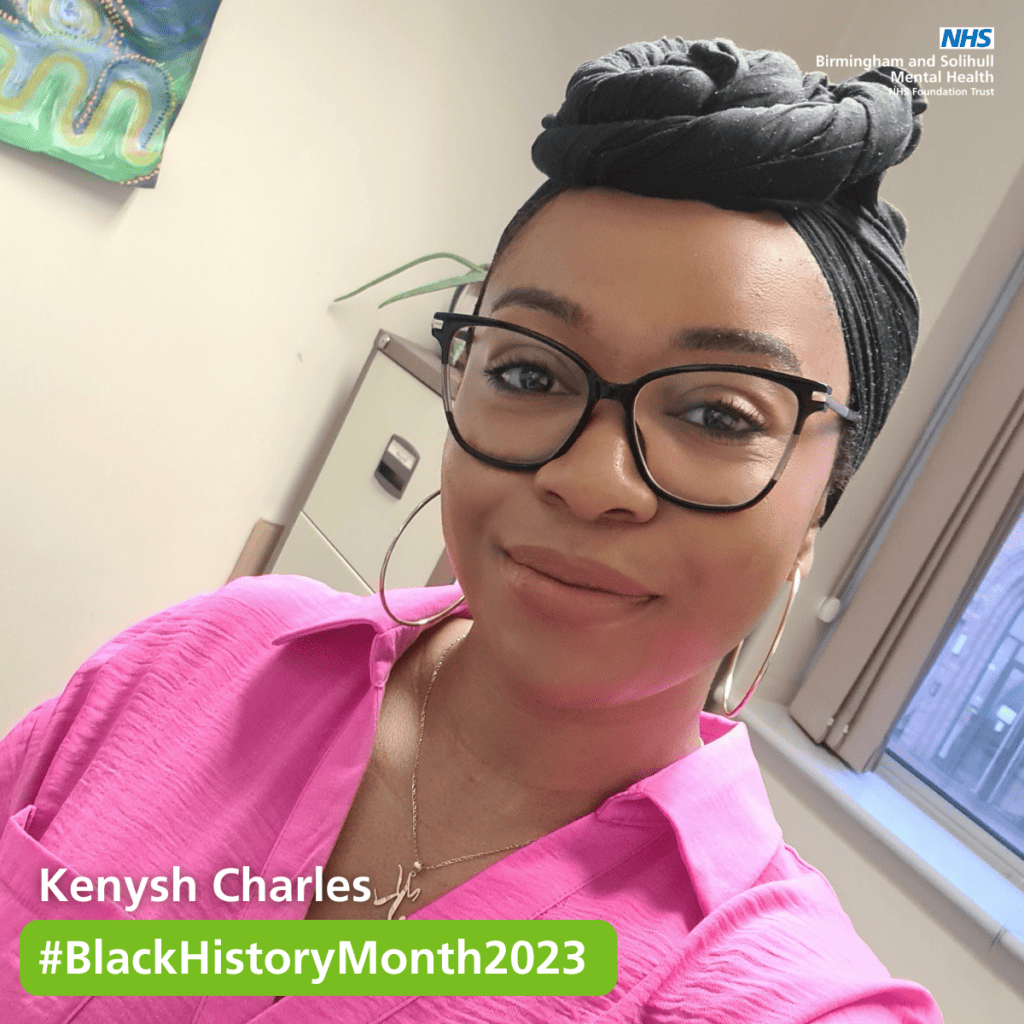 "Kenysh is a brilliant colleague to work alongside, demonstrating wisdom and compassion when discussing challenging situations. She has recently prompted transformations and funding in her location of work around the celebration of Black culture where there was previously a lack of resource in this area."
Kenysh kindly shared with us a small summary of her heritage, here's what she said:
"I'm delighted to have been nominated for a staff shoutout as part of Black History Month 2023.
I am a second-generation Brit, born and raised in the West Midlands. Both of my grandparents travelled to the UK in their early twenties as part of the Windrush generation. My grandmother left her homeland of Jamaica to work in healthcare, whilst my grandad left Grenada to work in the rail and transport industry. I'm forever grateful to both for their unwavering hard work, the sacrifices they made, and wholly acknowledge the hardships they had to overcome at the time to afford my parents and I a much better life.
Growing up in the UK has given me the best of both worlds. I have fond memories of family gatherings and celebrations where there was always food and always a sense of community and togetherness. One of my favourite aspects of my heritage is community. It's about coming together with family and friends to celebrate life's milestones, share stories, and enjoy each other's company. Every Sunday was spent at my grandparents, where we enjoyed a Caribbean Sunday dinner and these were the times to re-connect with my cousins and extended family, catch up and make memories.
I'm so proud of my Caribbean heritage, I love the vibrancy of the people, the local traditions like carnival and of course the food and music. Many will be familiar with Jamaican culture and its influence on music and food around the world but the little island of Grenada- the isle of spice and my 'home away from home' is somewhere everyone should know too. Grenada is such a friendly and laid-back island of people where 'liming' (relaxing with good company) is an integral part of the culture, and the beautiful white beaches provide the perfect settings. Some of my favourite foods would have to be salt fish fritters, plantain, festivals (sweet fried dumplings), Saturday soup, and nutmeg ice cream is a must!
In my role as an Art Psychotherapist my moral code has been shaped by my Caribbean heritage and underpinned by strong family values, making approaching people with compassion and respect a core aspect of my character. I'm proud of my culture and I'm proud to be a British woman of Black Caribbean descent."
Published: 30 October 2023