Today we are spotlighting Loretta Davis, Clinical Psychologist who was nominated by Dr Gobinderjit Uppal who said: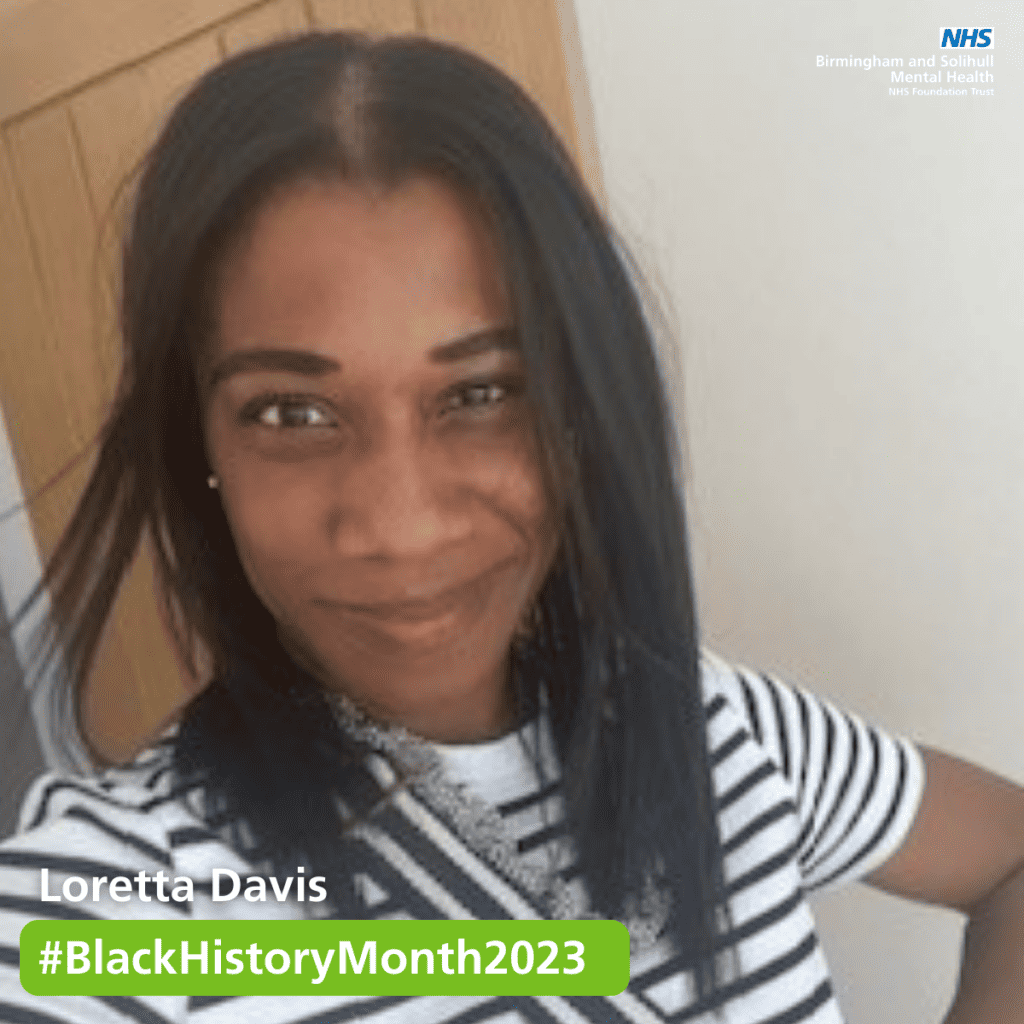 "For several years, Loretta has been sharing her experiences and knowledge of Black history with us. She started Black History Month at Orsborn House and no doubt, continues to promote inclusivity and engagement in her current role. Wherever Loretta works she offers culturally sensitive psychological support and that is really to be admired! I recall Loretta learning hello in the language of any service user she was working with that did not speak English."
When we asked Loretta about her heritage she said:
"I am Black woman of Jamaican heritage, whilst I was born in Birmingham, I was raised Jamaican!
My experience of being raised Jamaican involves growing up with a lot of love and affection from my family and the wider community. It's important to understand that the expression of love in Jamaican culture can come in many forms. From my nan feeding the family with her big big pot of Saturday soup to warm your belly on a winter's day, dancing in the kitchen with my gran aunt (yes you read that right I said gran aunt) on a Sunday morning, 'visiting' vulnerable elders in our church community with my mom on a Sunday afternoon or family elders sending/making me homemade remedies for any coughs/colds/belly issues I might have had growing up.
Community I would say is also a central feature of my culture. I have fond memories of going to Birmingham carnival back in the day when it was a two day affair in Handsworth, going to Marcus Garvey day celebrations and watching the cricket in Handsworth park, along with 'bogling and butterflying' on the dancefloor with my cousins and friends at christenings/weddings. As an adult I've loved attending dinner and dances/Independence Day festivals organised by the Association of Jamaica Nationals, you never know who you're going to bump into and it's always a blessing when you catch up with those who haven't seen in some time.
Being Jamaican is also about knowing your family and collective history. As my mom says 'how can you know where you're going if you don't know where you're from. Both my parents have shared stories about growing in Handsworth in the 50s and 60s along with tours of where they lived, went to school, bought their food and of course the big family trip to Jamaica when I was about eight or nine years old. This along with spending time with grandparents and relatives in Miss Knights' grocery shop on Soho Road, bumping into family friends on our travels and attending Canon Street Baptist Church has given me a sense of connectedness to my local Black Jamaican community. Attending a 'Saturday school' in Lozells as a child alongside my mainstream education gave me more opportunities to learn about Black pioneers (Martin Luther King, Maya Angelou, Mary Seacole), explore my culture with other Black children and think about issues such as what it means to be 'Afro-Caribbean' and understand what 'oppression' is as it relates to us a Black people.
"For me personally knowing both the struggle and success has helped me to thrive and survive. Be it the sayings that ground me at time of stress (sometimes you haffi suck salt and sip water), the poems that strengthen me (Still I rise by Maya Angelou), the practices that nurture me (post-partum care from the females in my family) or the beats and rhythms that uplift me and speak to my soul (90s reggae, 00s dancehall)."
Published: 20 October 2023