Today's staff shoutout goes to Rohon Webber, Clinical Inequalities Lead for Ardenleigh and our FIRST team. Rohon was nominated by Marimouttou Coumarassamy, Deputy Chief Operating Officer and Associate Director of Operations. He said: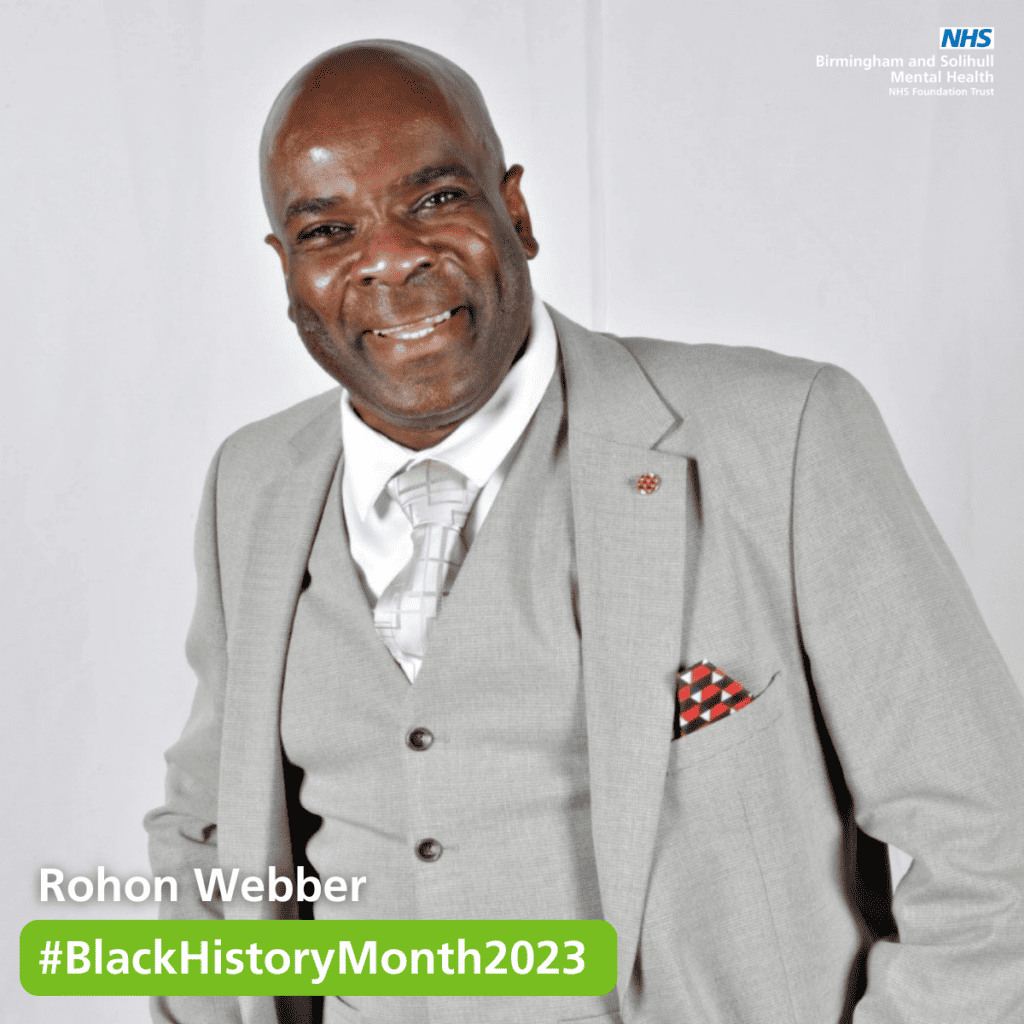 "I have worked with Rohon for a bit more than 18 months now and I have always found him to be a patient-centred, compassionate and inclusive person. He is very down to earth and humble and easily engages with all our patients, positively influencing them towards better mental health and wellbeing.
In his role as Inequalities Lead, he demonstrates huge patient engagement skills which has helped us to understand some of the tricky unknown areas. He is very instrumental for our division to deliver events like when we held our own version of the 'Commonwealth Games' for patients in a secure environment, which they thoroughly enjoyed.
It's a real privilege to work with such values-based, humane people who are so patient-centred.
Rohon said:
"Black History Month is crucially important to me as it recognises and celebrates the unwavering contributions and experiences of Afro-Caribbean people within the United Kingdom.
Black History Month provides a safe platform to raise awareness about the rich culture of the Black community within our society. It promotes inclusivity and most importantly inspires positive social change. The celebration of Black History Month should be the mechanism that leads positive discussions and actions that will drive social change and social reform. Furthermore, it should be the catalyst that would force us to address systemic racism and equality and various aspects of our society including training, education, employment as well as access to a safe mental health support system for the Black communities. Working with BSMHFT for over 20 years I have seen the tremendous effort that has been made to acknowledge and recognise the work force of the BAME community by putting Black History Month on its yearly agenda and the Trust's work on diversity and inclusion, of which I am proud to be a part of.
"I would like to say how grateful I am to my Windrush generation who have paved the way and left behind an indelible legacy for us to build on. I'm proud to be Black, and proud to be a Jamaican every single day and this Black History Month, it's time to celebrate every single one of our stories."
Published: 27 October 2023