This year marks both 75 years of our amazing National Health Service and 75 years since the SS Empire Windrush arrived at Tilbury Docks in Essex in 1948. The boat was carrying the first 492 Caribbean migrants who responded to the UK's invite to help re-build Britain after the Second World War.
Over the years, the NHS has grown from strength to strength, attracting some of the most talented health care professionals from across the globe.
Today, we are sharing a story from Birmingham-born Senior Clinical Psychologist, Dr Loretta Davis. Loretta's family history touches on her connection to the Windrush generation and how this inspired her to join the NHS to support the community of Handsworth, Birmingham.
This is Loretta's story.
"My name is Loretta Davis, my paternal grandparents are Vincent and Muriel (pronounced Mi-rell) Davis. They were both born in St Thomas, Jamaica. My grandad was from a place called Bath and my nan was from Hillside.
My grandparents came to England in the early 50s and quickly settled in Handsworth, Birmingham. Grandad was a traditional West Indian baker, a skill passed down to him for his father, Arthur Davis.
Grandad started off baking in his home. He baked hard dough bread, bun, bulla, toto cakes and cut cakes. He used to sell these goods to the newly arrived and growing West Indian community.
Around the late 50s/early 60s, grandad set up the 'Davis Bakery'. My dad said he remembers the bakery being built in the garden of the family home. My grandad bought the equipment himself and employed people from the local community. My nan ran the grocery part of the business whilst also raising her children. The grocery sold West Indian goods, I imagine things like ackee, saltfish, plantain (pronounced plan-tin) to the local community and also supplied other local West Indian and Asian shops.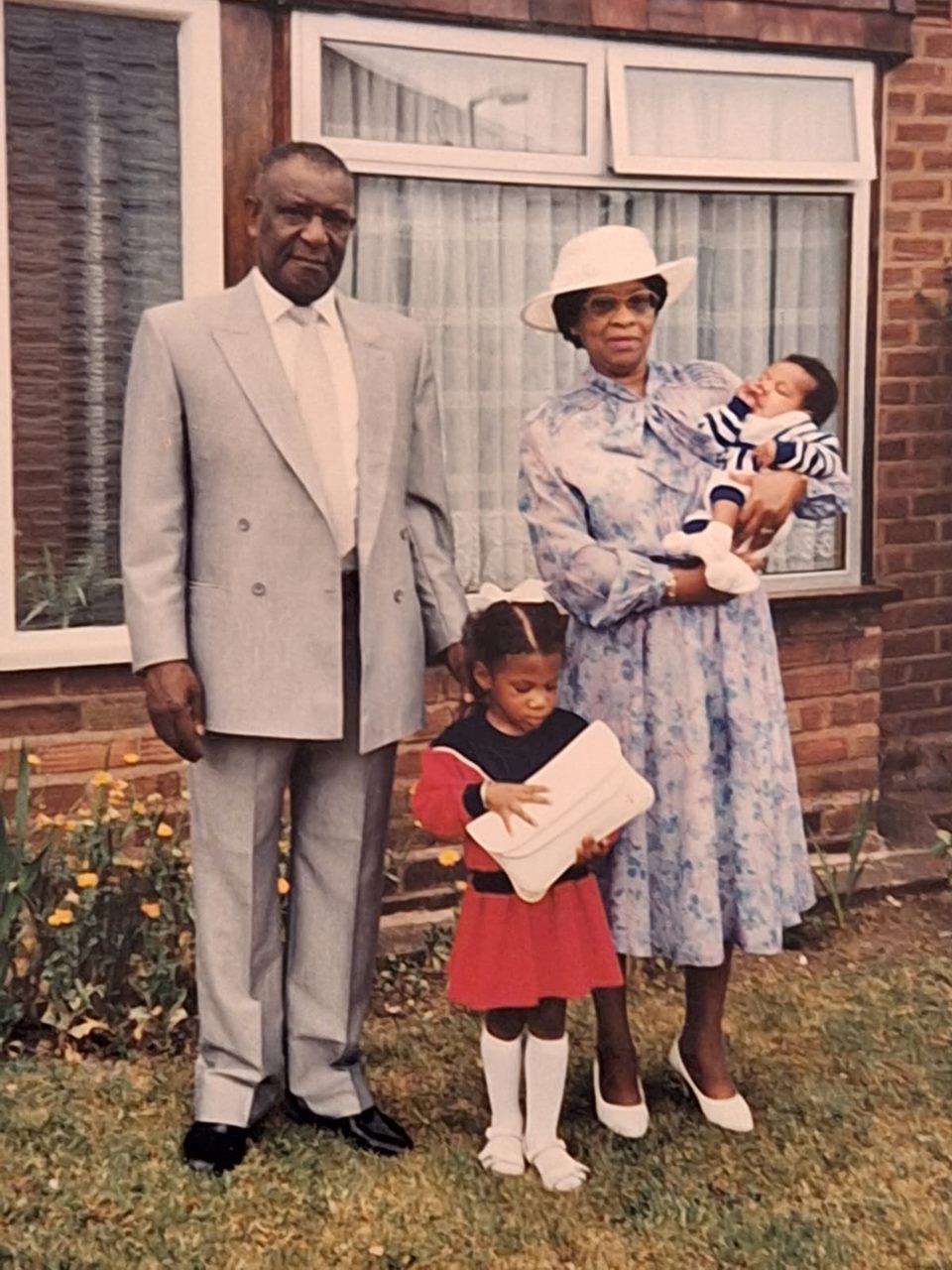 The bakery continued till around the late 70s long when grandad retired and long before I was born. I grew up with grandad always bringing home freshly baked goods, so I have feeling he was still connected to the baking business, perhaps through his former associates he used to meet up with in Handsworth every week.
In 1994 a big glass trophy appeared in the front room of my nan's house. Grandad's hard work and contributions over the years had been formally recognised by the Black business community and he had been presented with a lifetime achievement award.
I spent a lot of time with my grandparents as a child, I enjoyed eating all the bulla cakes with cheese and soup on Saturday when everyone would come together at their house. When my grandad and later nan died the community really came out to support, packing out both levels of Canon Street Baptist Church. I think there were even people outside the church which was a huge surprise to me seeing those numbers as they were humble people.
When I qualified as a clinical psychologist, I got asked what area I wanted to work in. Without hesitation I said Orsborn House, Handsworth, because it was familiar territory for me and there was a deep family connection. There was something about wanting to serve the needs of this local community, similarly to how my grandad and nan once had.
In my day-to-day work I took it upon myself to learn how to greet people in their native language by learning a little Arabic, Punjabi, Polish and of course speaking Jamaican patois (pronounced pat-wah). I remained curious about culture, faith and religion and have adapted my practice to incorporate these aspects of personhood when undertaking psychology assessment, formulation and interventions. I've also tried to bring aspects of my own heritage and culture into work by cooking saltfish fritters and bringing hard dough bread to team lunches as well as celebrating Black History Month via the 'no longer under the radar' project.
I have since left Orsborn house and moved to an acute inpatient setting, it might be a different setting but it's the same me continuing to 'do the work'."
Published: 7 July 2023