Rookery Gardens' Wander and Wonder woodland themed border was presented with a Gold Award at Gardeners World Live 2023 in June.
Entered as part of the Beautiful Border competition by five Royal Horticultural Society (RHS) students, James, Marina, Ching shun, Chris and Paul, it was designed to raise awareness of and benefit those who struggle with mental health conditions.
Rookery Gardens is run by our Trust, in partnership with Birmingham Mind and is a place of hope and recovery supporting service users to live independently. It is proudly supported by many of our nursing staff, doctors, psychologists, and occupational therapists as well as MIND Recovery Navigators. For service users, it is a place of hope and recovery, changing lives and equipping those struggling with mental health conditions to live independently and fulfil their potential.
The border was given a permanent home at Rookery Gardens with a grand opening at their annual garden party celebrating not only the official opening of the Wander and Wonder garden but, the NHS turning 75 and their six-year anniversary. A great afternoon was had by everyone in the sunshine with mocktails, a BBQ, a DJ and followed by the cutting of the ribbon for the garden.
Sarah Jones, Steps to Recovery Matron at Rookery Gardens said:
"We recognise that our service users benefit from being outside in green spaces – whether it's to aid relaxation, grow produce or to take part in activities, it has a hugely positive impact.
This border will help to make our outside space a sanctuary for Rookery Garden's residents' to escape to, somewhere which brings people together."
Staff and students would like to thank our Trust charity, Caring Minds, for supporting the Wander and Wonder project.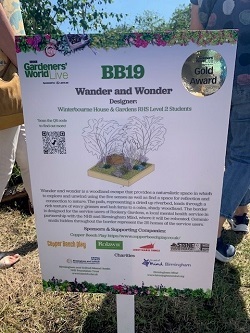 Published: 25 July 2023