Senior External Communications Officer, Grace Holness advises us to have our flu vaccination as soon as we can to protect ourselves and others from what for her proved to be near fatal. Below she shares her story.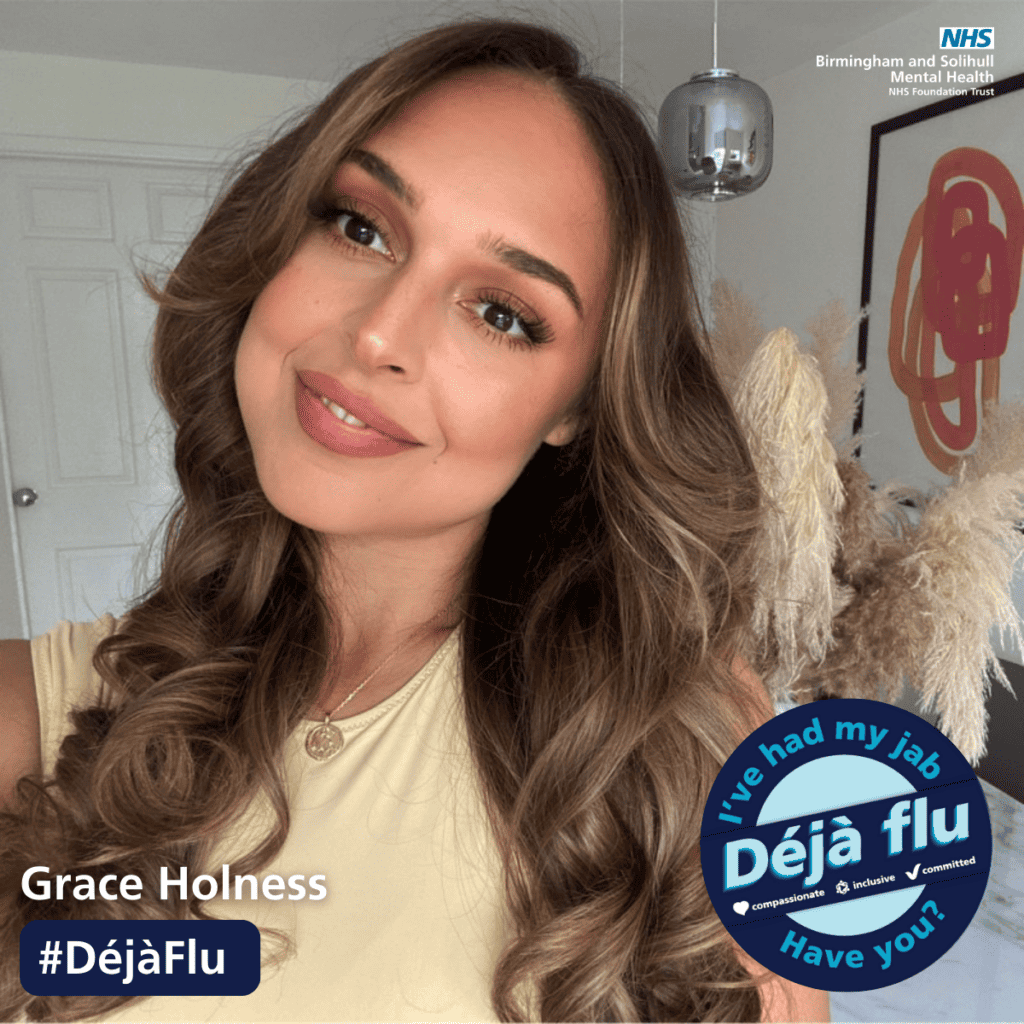 "Since I have been old enough to walk I have always struggled with breathing difficulties, more specifically chronic asthma. Growing up I used to dread going to the GP every year to get my flu jab. My sister and I would wait to see who got the best sticker at the end of our jab and try to squeeze a McDonald's out of my mom for being brave… but as I got older, flu jabs got pushed down the to do list of my day-to-day priorities. I'll admit, even after suffering with asthma for 27 years I'd still roll my eyes when the doctors got in touch to tell me it was that time again. I'd always have my jab, roll up my sleeve, do my bit. We are all a bit guilty of leaving things till the last minute sometimes, particularly during the festive season, the last minute panic buys, working later and later to get things done on time. I was guilty of that too, but I left my health last on my to do list and I didn't get my flu jab early enough.
As the weather drops colder, A&E gets pretty busy with people like me during the winter months. Having asthma in the winter for those who don't know can cause breathing difficulties, that can at times feel like you are breathing through a balloon – the more you breathe in, the less you can breathe out. My asthma can get triggered by things like sudden weather changes, allergies, and viruses. The common cold for someone like me can be dangerous, not just a snotty nose and a sore throat.
Sadly, I spent last Christmas away from my family in intensive care after having a life-threatening asthma attack brought about by me catching Influenza A – AKA the flu. I spent the whole of the Christmas period away from my family, hooked up to drips and tubes, I was poked and prodded with needles, concerned strangers in masks spoke about the possibility of putting me on a breathing machine. In the back of my mind I remember thinking, 'I'm only 27, I shouldn't be here'. A few days prior I had been playing Monopoly with my fiancée and family and now I was fighting for my life with steroids, fluids and oxygen tanks keeping me alive.
My story ends on a much more positive note, I was able to leave hospital on New Year's Eve, I came back home to my fiancée and my dog Marley, with all our presents unopened, waiting for my return. We had our own version of Christmas, I managed to eat a little bit of food and watched Gremlins on the telly, I laughed and cried, still a bit shell shocked from the whole experience, but most of all I was just happy to be 'okay'.
As a result of my experience I have had my flu jab far earlier this year and I am encouraging my family, friends and colleagues to do the same. If not for yourselves, please think about those closest to you. My case is a pretty rare and extreme instance, but it happened. And I will never forget it.
If we all play our part in getting the flu jab this year, one small moment of discomfort could massively protect those around you.
For more information on the flu vaccination and where to get yours, visit NHS.uk today.
Published: 30 October 2023