Thank you to every person serving or who has served our country.
Today we honour and show our support to the many men and women who make up the Armed Forces community, from serving troops to veterans, service leavers and reservists, we appreciate you.
As a mental health Trust, we would also like to take the time to acknowledge that there are many people who may have suffered trauma or may still be silently struggling to adjust to post-service life.
Help is available. You are not alone.
Mental health problems are common and can affect anyone, including veterans, serving personnel, reservists and their families. It's important to get help and support if you or someone you know has mental health problems. That's why we have OpCOURAGE: the Veterans Mental Health and Wellbeing Service.
Please visit opcouragemidlands.nhs.uk for more information.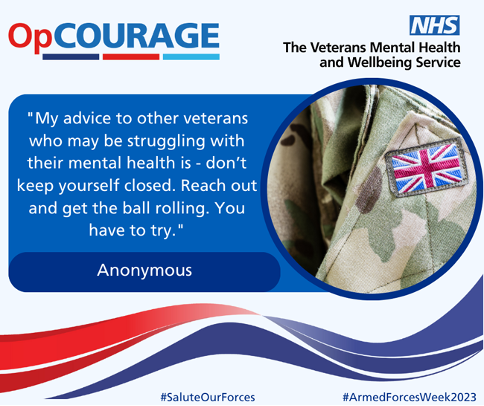 Published: 23 June 2023