The Midlands Safeguarding team nominated Mel for a Safeguarding Star award for being a committed member of the Birmingham and Solihull partnership team.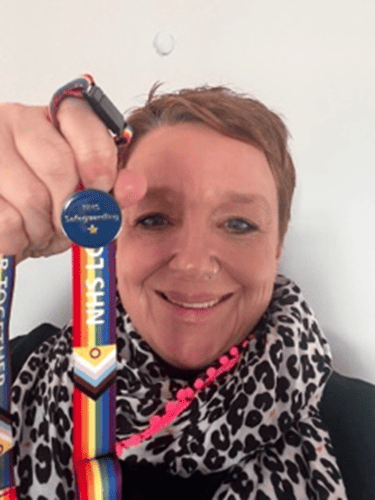 Safeguarding means protecting a citizen's health, wellbeing and human rights; enabling them to live free from harm, abuse and neglect. It is an integral part of providing high-quality health care. Mel proactively supports the region with events, forums and networks whenever possible, at times adapting her own plans, even annual leave, to suit the region.
Her dedication to the Midlands and her colleagues is incredible as is her commitment and leadership to safeguarding.
Mel kept the news under the radar after scooping this award up in June of this year, but it was recently brought to the attention of Lisa Pim, Deputy Director of Infection Prevention Control, Patient Safety, and Clinical Quality/Governance who wanted to ensure Mel got the recognition she deserves saying:
"I am literally beaming with pride for you and for us!"
Mel said:
I am really pleased to be given an NHS Safeguarding Star award and I am really enjoying my new role as Head of Safeguarding at BSMHFT.
Mel was sent an NHS Safeguarding Star badge that is now pride of place on her lanyard.
Published: 2 November 2023