South Asian Heritage Month is an annual event where from 18 July – 17 August the history, culture, achievements and contributions of Afghanistan, Bangladesh, Bhutan, India, the Maldives, Nepal, Pakistan and Sri Lanka are celebrated across the UK.
Across the month, we will celebrate our 608 colleagues of South Asian heritage by shining a spotlight on those who are compassionate, inclusive and committed in everything they do.
Naveed Akhtar, Support Time and Recovery Worker was nominated by Munya Mwerenga who said:
"I would like to nominate Naveed Akhtar, a dedicated Support Time and Recovery Worker in our Assertive Outreach Community team, for special recognition during South Asian Heritage Month. Naveed consistently goes above and beyond to support our most vulnerable service users, displaying unwavering dedication and compassion.
"Recently, Naveed went the extra mile by creating a powerful video to encourage the recruitment of staff from ethnic minority backgrounds. Her efforts in promoting diversity and inclusivity within our organisation will have a profound impact on our recruitment initiatives."
Naveed's exceptional qualities as a member of our healthcare staff, her tireless support for our service users, and her proactive efforts in fostering diversity make her a deserving candidate for recognition during South Asian Heritage Month."
We reached out to Naveed to ask her what she loves most about her heritage during South Asian Heritage Month, she said:
"My parents are both from Pakistan. My dad, who sadly passed away five years ago, came to England in the mid-sixties. My mum came over in the late sixties."
"We are a close family and have a fairly large extended family who we spend a lot of time with. I love that about our culture, spending time with each other and sharing lots of different foods with each other".
"I'm proud to be a British Pakistani Muslim. Since I was young, I have visited my family regularly in Pakistan and so have my four children and two grandbabies. I love that I grew up in Birmingham in a multi-cultural community."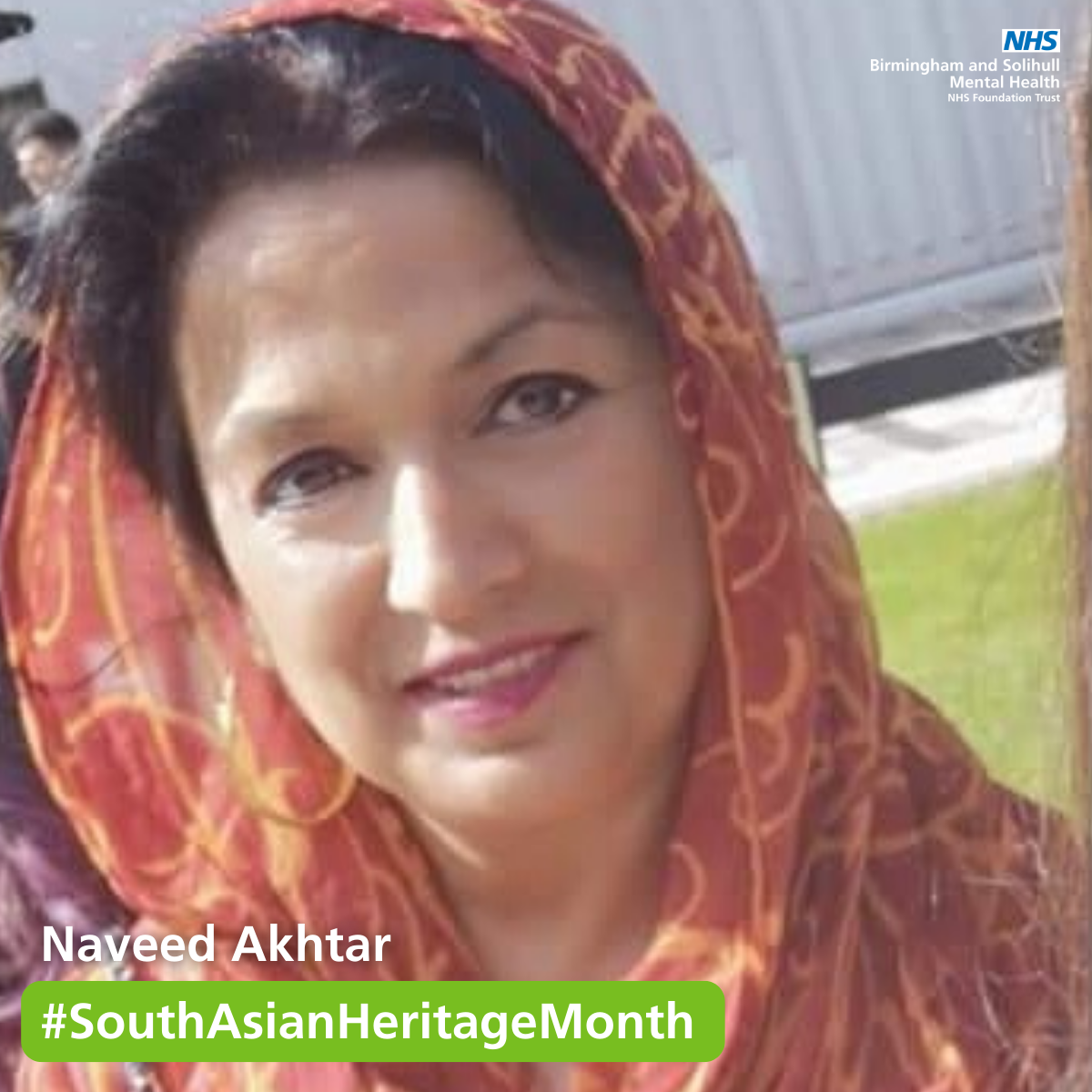 Published: 25 July 2023