Armed Forces Day (previously known as Veteran's Day) was started 15 years ago with the aim of ensuring that the contribution of veterans was never forgotten. Whereas Remembrance Day focuses on honouring the dead, Armed Forces Day focuses on celebrating the living that have served or are still serving in the British Military. As the Chief Executive of NHS England, Sir Simon Stevens, recently stated: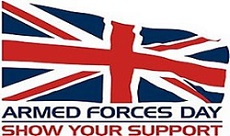 We owe a special debt of gratitude to those who risk all for their country and the NHS is determined to do its part in honouring that. Anyone can be affected by mental ill health but armed forces veterans may have seen and experienced things that few others – thankfully – will.

What is BSMHFT doing to support our Armed Forces?
BSMHFT is proud to be one of five NHS Trusts providing specialist care to our nation's military veterans through Op COURAGE, a collaborative piece of work between NHS England and the Office for Veterans Affairs.
Over the last three years, NHS England has launched the Veterans' Mental Health Transition, Intervention and Liaison Service (TILS), the Veterans' Mental Health Complex Treatment Service (CTS) and the Veterans' Mental Health High Intensity Service (HIS). Together these three services form a complete veterans' mental health care pathway, newly named Operation COURAGE.
The culture of the armed forces is unique and Op COURAGE is run by a team of professionals who understand this. Some staff are veterans themselves, whilst others have experience of working with veterans and/or people who have experienced complex mental health problems including trauma.
Veterans can gain access to the specialist support provided by Op COURAGE through TILS (Transition, Intervention Liaison Service 0300 323 0137). Veterans can refer themselves directly to TILS or they can be referred by a health professional (e.g. GP). TILS staff will assess a veteran's mental health and psychosocial needs and signpost them to the appropriate support. If the veteran's mental health problems are attributable to/compounded by their time in the armed forces, they may be referred to the Complex Treatment Service (CTS) for psychological therapy and/or practical support (e.g. with housing, benefits, finding work, mixing with others, starting new hobbies). CTS will also help other health professionals (e.g. in mainstream NHS services) to provide 'military sensitive' care to veterans.
During a crisis, veterans may require more intensive mental health support and this can be provided by another arm of Op COURAGE, the High Intensity Service (HIS). HIS can provide a brief intervention to stabilise the veteran. Whilst this is not intended to take the place of mainstream NHS Crisis Teams, HIS (like all teams within Op COURAGE) is a 'military sensitive' service, so it takes into account the unique military culture/background from which veterans come.