Co-production at the heart
It is important to us that our strategy is real and meaningful to our staff, reflects what is important for our service users, families and carers, and is aligned to the plans and aspirations of our partners.
We carried out one of the largest engagement exercises we have ever carried out. This included asking colleagues, service users, carers and partners to 'Help us brew up our strategy' and then to 'Taste our brew'. You can find out more about this on pages 6 and 7 of the strategy
We are proud that the strategy has been awarded the Trust's first ever Recovery for All Quality Mark, for demonstrating the principles of recovery and co-production with service users and carers.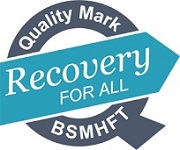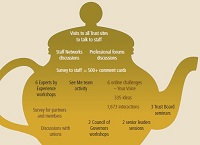 Learning from COVID-19
When the COVID-19 pandemic hit us in March, we had to very quickly adapt our ways of working so that we could continue to provide our services in a safe way. We decided to spend some time evaluating these changes and asking our staff, service users and carers what their experience of these changes had been and what we should stop, continue and improve. This helped inform how COVID-19 would impact our future strategy.