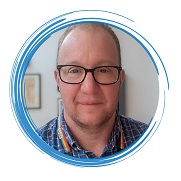 Hi Jed, please can you tell us about your role at the Trust and what you like to do outside of work.
I am the Principal Art Psychotherapist for Community Services. I manage the Arts Therapists located in Community Mental Health teams across the Trust. I am also a Clinical Academic Researcher, and my research interests lie in arts-based research methods, co-production and improving access to healthcare services for people and communities often marginalised and excluded.
Outside work, I like being outside in nature, making things, gardening, travelling, hanging out with friends and family and being a Dad.
What inspired you to choose your profession and what made you decide to specialise in Art Psychotherapy?
I re-trained when I was in my mid-30's having worked in health and social care, mainly in supported housing as a front line worker then at a strategic commissioning level and I realised… I had become a pen pusher! I have always been creative and wanted to bring this together with my role in health and social care.
What's the most rewarding thing about your role?
Two things – firstly I enjoy witnessing people feeling something shift through making images and objects in the therapy space.
Secondly, watching trainee Arts Therapists and new team members arrive and thrive in their roles. We are lucky to have a (in art therapy terms) large team here at BSMHFT and people want to work here because of that. Many of our profession work alone so to come here and be part of a team of 15-20 Arts Therapists is exciting!
What age groups do you support?
We work across all ages as a profession. In this Trust, we have Arts Therapists across all the Community Mental Health Teams, in Secure Care and Offender Health, the Complex Treatment Service for Military veterans, SOLAR and the enhanced pathway for Personality Disorders.
How do you look after your own health and wellbeing?
I try and practice what I preach and find opportunities to be creative! Not always easy. Outdoor boot camp and seeing friends and family. Getting away when I can and making sure I have some parts of my job that feel exciting and inspiring.
What's the most interesting thing about you that people might not already know?
I did once spend the day carving a spoon with Ray Mears!
Describe yourself in three words.
Creative, open-minded and optimistic.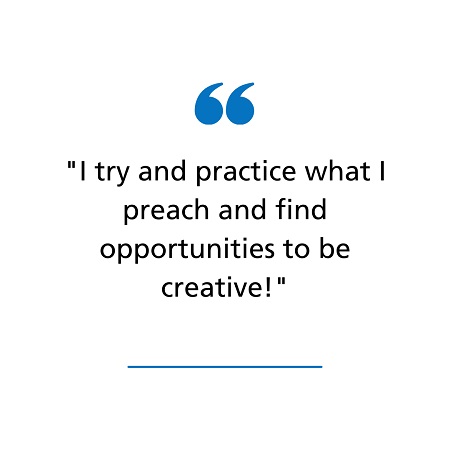 Published: 20 July 2022