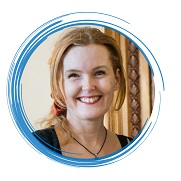 In our latest Five Minutes With feature, we speak with Samantha Day. Samantha is a Consultant Clinical Psychologist and Clinical Lead for our Maternal Mental Health service.

Samantha has dedicated years of her life to helping women and birthing people who have gone through the devastation and trauma that perinatal loss can bring.

Her role has supported the mental health of countless women across Birmingham and Solihull and today, we get to learn what this role means to her.
Hi Samantha, please could you tell us a little bit about yourself and your role at BSMHFT?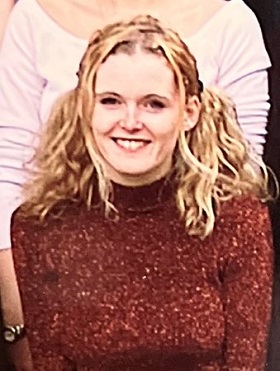 I am a Consultant Clinical Psychologist and Clinical Lead for the Maternal Mental Health Service. This is a new service within Perinatal Mental Health where we support birthing people who have experienced perinatal loss (such as infertility, miscarriage, termination, stillbirth or neonatal loss) when it has had a significant impact on their mental health, either within the months following the loss or in subsequent pregnancies. We work closely with bereavement midwives within maternity and third-sector organisations to provide support that fills the gap between the amazing services that already exist.
Using psychological therapies, peer support and specialist midwifery, we hold the reproductive journeys of birthing people to support them to make sense and find ways through the pain of the multiple losses that perinatal loss can bring about.
When did you first start your career in your profession, and did you think you'd ever end up working in mental health?
I knew from studying psychology at university and hearing a clinical psychologist talk about her therapeutic work that I wanted to work as a clinical psychologist in the NHS. I studied at University College London and from previous work volunteering for Amnesty International, wanted to work within the field of trauma. My first job after qualifying was working at the Traumatic Stress Clinic in London using psychological therapy to support adults who had been through terrifying, life-changing experiences. Although in all my work I have continued to work with the impact of trauma, I think it has taken time to find ways for me to understand the impact of the work on myself. I felt fearless when I started in the NHS and now realise the care you need to take of yourself and those around you to ensure you can remain receptive to take in and help support the experiences of others.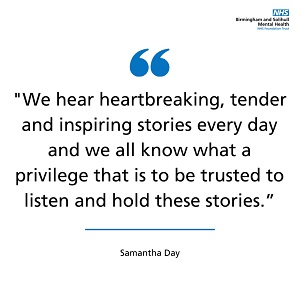 What is your favourite thing about your role?
There are many things that I am grateful for in my role. I work with very supportive, kind, passionate work colleagues who look after each other and are very funny. We hear heartbreaking, tender and inspiring stories every day and we all know what a privilege that is to be trusted to listen and hold these stories. I also appreciate working closely with maternity teams, being able to observe the incredible, dedicated and sensitive work of the bereavement midwives and the care they offer families.
How many people do the Maternal Mental Health Service support each year and what would you say to someone who is struggling with their mental health following perinatal trauma/loss?
We are a small specialist service commissioned to see 200 women/ birthing people a year and will hopefully reach many more through our project and outreach work. We know that perinatal loss is a devastating loss that is made more difficult by the pain often being invisible to those around, often not acknowledged by society and often not understood by those who have not experienced it. Support from someone who understands can be really helpful so we are working with third-sector organisations to try and increase support to people we know are less likely to reach out. I would encourage people to try and seek connection with others who understand the experience so you know that you are not alone.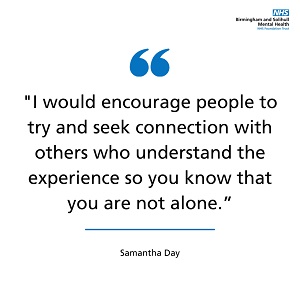 Has there ever been a stand-out moment in your career that has made you pause and reflect?
So many. I think a significant moment for me was working as part of the Solihull Approach team in Solihull Children and Adolescent Mental Health Service (CAMHS) around 15 years ago. Beginning to witness and understand the power of careful listening and being curious about people's stories and its role in creating change within parent-infant relationships. As part of team working and supporting many other professionals within primary care, following the same way of working, it really felt like we were developing a very helpful way of communicating with each other and the people we worked with.
Who is your biggest inspiration in life and why?
I am inspired by the people I meet and the things that people do a lot. I am moved by the courage shown within the vulnerability of doing or feeling something different to what is expected, creating new pathways.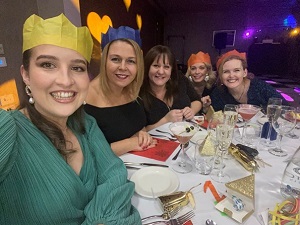 Samantha (pictured right) and her Maternal Mental Health colleagues
Describe yourself in three words
Hard-working. Reflective. Impatient.
If you could say one thing to your younger self, what would it be and why?
Do not spend so much time watching Married At First Sight!
Tell us one thing about yourself that people might not know
I get a lot of support and joy from being a Buddhist and am part of the sangha at the Birmingham Buddhist Centre.
More information about our Maternal Mental Health Service is available to read on our website. If you are struggling with your mental health following perinatal loss, please speak to your midwife, health visitor or GP in the first instance.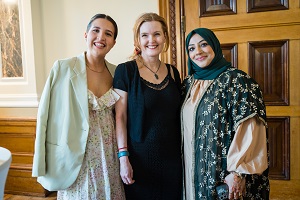 Published: 9 May 2023