Welcome to this year's eagerly anticipated annual Values Awards 2023. These awards are a golden opportunity to shine a light on and celebrate some of our achievements and hard work that we have achieved, particularly over the last 12 months.
Two hundred colleagues united for a very special annual awards ceremony to shine a light on and celebrate the successes, hard work and achievements of our colleagues on Tuesday 25 April. Our Values Awards was hosted by Chief Executive, Roísìn Fallon-Williams and Chair, Phil Gayle.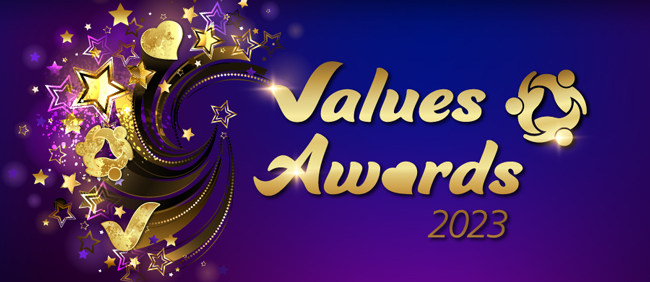 he eagerly anticipated Awards saw colleagues and teams recognised for their inclusive, committed and compassionate work. 
The evening was a welcome pause to stop and reflect on the incredible work that has been achieved over the last 12 months.
This year there were nine award categories, take a look at those teams and individuals that have been nominated and won this year's Values Awards.