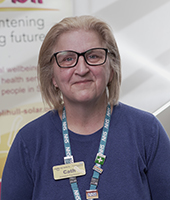 Cathy Doughty - Gold winner
Based at Bishop Wilson Clinic, Cathy has made a long-lasting impact on the lives of parents and children in her care. She has helped to build up trust between our young service users and the mental health services supporting them, as well as develop their independence. A specific parent in particular told us that Cathy always goes above and beyond, not only to help her service user, but to support the entire family.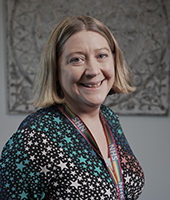 Kelly Buffham - Silver winner
Kelly works in our Solihull Home Treatment team as a Psychologist, she is kind and calm, shows initiative and most importantly, offers validation. Kelly has made a huge difference to the experience of service users who have written to express their deepest gratitude. Kelly makes everyone feel seen and that they are important. Her presence is always welcome and she is always on hand to support anyone who is distressed or struggling.
Mandy Fair - Bronze winner
Mandy is a Care Coordinator at Solihull Assertive Outreach Team. She really takes the time to get to know the people she supports. From their facial expressions alone, she can tell when they are having a difficult day and is always there for people during their most difficult moments. Mandy is compassionate and encouraging, she is also highly committed. She always treats everyone with dignity and respect, so much so that she has been described as 'one in a million'.
Katherine Allen - Highly commended
Three years ago, Katherine influenced a member of staff to establish the Trust's first Lived Experience Research Group (LEAR). This provides feedback and guidance to researchers working on studies from the Trust and beyond. Since then, Katherine has tirelessly mentored the same staff member with their intellectual and emotional development, encouraging them to succeed. This has resulted in them applying for and being awarded a National Institute of Health Research (NIHR) pre-doctoral fellowship in mental health research. Katherine is always there to gently encourage and remind people of their positive qualities, she also has the rare ability to change the way people feel about themselves by understanding them on a deep level.