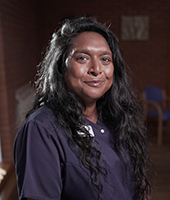 Tina Patel - Gold winner
Working at Reaside, Tina has embedded inclusivity and diversity within her management style. Tina has an open-door policy and often encourages her team to sit and chat about their general wellbeing, work-life balance, personal issues and any other business. Tina champions diversity and inclusion across her team and always has a bright smile on her face, welcoming anyone who meets her. Tina is described as approachable and treats each staff member with dignity, noting any concerns that they may have and acting swiftly on them.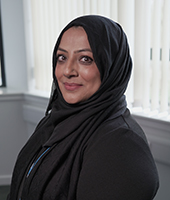 Asia Ali - Silver winner
As a Peer Support Worker in our Maternal Mental Health Service, Asia brings her personal experience of perinatal loss to support others. Asia has spoken out about the stigma surrounding mental health support, specifically within minority groups following perinatal loss. With the support from her team and third sector organisations, Asia facilitates drop-in groups to make it easier for people to seek help, she has spoken on the radio about the support available, she has featured in videos explaining more about the Maternal Mental Health Service in Urdu, and she has also been in local newspapers to help raise awareness about the support available.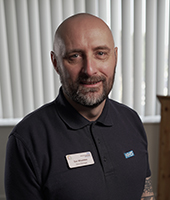 Daniel Wheeldon - Bronze winner
Daniel works in our Laurel Ward, Tamarind Centre. He was nominated by colleagues who described him as the 'best manager' and his door is always open to anyone, regardless of grade or discipline. Daniel always challenges discrimination and racism and acts as a supportive measure for staff and service users. He always treats staff fairly and values everyone's voices and opinions. Dan also values co-production, involving our service users when making decisions to change and develop the ward.
Renu Bhopal-Padhiar - Highly commended
Renu has worked above and beyond to support the delivery of the Community Transformation Programme. Renu is thoughtful, warm, engaging and a great listener. She will ensure that all colleagues, service users, families and carers she engages with feel seen and heard. Renu has been inclusive at every stage of planning within the programme, ensuring equality, inclusion and diversity is at the heart of our service developments whilst being mindful of our hard-to-reach communities. Renu takes time to build successful relationships to have a greater understanding of what is required across our diverse communities of Birmingham and Solihull.