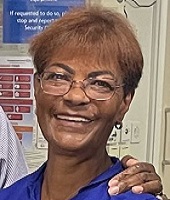 Deloris Johnston - Gold winner
Deloris or 'Del' has been a nurse for almost 50 years and has committed her life to nursing and BSMHFT. She is dedicated, has a natural ability to nurse others and is kind, caring, non-judgmental and empathetic. She began her career at All Saints and worked her way across the Trust working at various sites before retiring as a Deputy Ward Manager at Mary Seacole Ward 2. Since then, Del has worked bank shifts every week on Eden PICU, further dedicating her life and time to others. She has always nursed service users and treated her staff fairly and with dignity no matter their backgrounds or beliefs. Del has worked in high clinical environments both with aggression/violence and acute mental health when women are in crisis. She is calm, collected, highly motivated and compassionate to all those she comes into contact with, always with their best interests and safety at heart.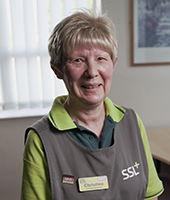 Christine Donnan - Silver winner
Christine or 'Chris' is a Domestic Supervisor at Warstock Lane. She is pivotal to the safe and effective running of Warstock Lane, always going above and beyond to ensure that the environment is clean, safe and welcoming for staff and service users alike. Chris has worked there for 25 years and is an absolute asset. She is friendly and welcoming to everyone she meets. She worked tirelessly throughout the COVID pandemic to ensure that optimum levels of high-quality hygiene were maintained and continued to be thereafter.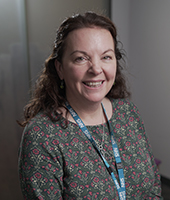 Lorraine Mattocks - Bronze winner
Since the early 1990s, Lorraine has worked tirelessly for the NHS. First as a registered mental health nurse and then further training as a Child and Adolescent Psychotherapist. She has worked in the Solihull area for over a decade and has been committed to children and young people in the care system, being a strong advocate for the voice and needs of this vulnerable group of people. Lorraine is modest in what she does, but confident in her skills and abilities. She is not afraid to stand up for the children and young people she supports, even with team members. She has remained committed to the LATCH team in Solar. A key example of her commitment was Christmas Eve of 2021, where she stayed beyond her working hours to support a young person who needed to be transferred to A&E following a disclosure of significant risk to the person's safety.
Elaine Murray - Highly commended
Elaine has dedicated 35 years of her life to working for BSMHFT in a variety of settings. She has been a Community Psychiatric Nurse in both inpatient and community settings, she has had leadership roles in areas such as Solar, Inpatients and Adult Integrated Community Care and Recovery Settings, to name just a few. Throughout her career she has maintained a huge amount of compassion and gives everyone her undivided attention. She has been a great role model and always encourages people to push themselves to achieve great things. Elaine is committed to ensuring that junior and senior manager are helped to grow as leaders, understanding their strengths and developmental needs, allowing them to become the best they can be.
Jennifer Lindsay - Highly commended
Jenny has worked tirelessly for years and even after retiring still continues to work with and support our service users on Endeavour Court. She has worked on a lot of wards over her career and is a very popular presence when she does. She has supported many service users in her time working in mental health and continues to do so, seeing the positivity in everyone. She has always been able to build a strong rapport with service users and helps to support them during their stay up until they leave. She is described as one of the greatest members of staff that the NHS could have hoped for and it is a real blessing she is still a part of it with us all.