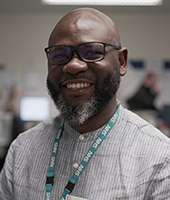 Kenny Fakeye - Gold winner
Kehinde or 'Kenny' is a Band 5 Community Psychiatric Nurse at Sparkhill Home Treatment Team at the Zinnia Centre. He is described as the epitome of a compassionate nurse who every day demonstrates empathy and kindness to every person he meets. His positivity inspires everyone he meets and he is warm and welcoming to both this colleagues and service users. Kenny is always keen to ensure every service user in his care is supported, often going over and above his job description to achieve this. He will always do everything he can to improve someone's life and support their recovery for the future.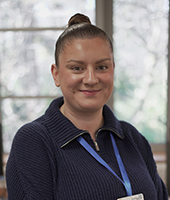 Nina Mitchell - Silver winner
Nina is the Clinical Lead for the Primary Care South team. She had a very difficult time with an unexpected service user death. Despite this, she offered support to her Primary Care colleagues and continued working, not wanting to let other service users down. Nina always expresses her desire to want the very best for the service and service users. She is described to be a lovely person who is strong and independent and supports everyone with a deep level of compassion.
Andrea Javadian - Bronze winner
Andrea is a Senior Occupational Therapist at David Bromley House. Andrea does everything she can to support residents to have a better journey with us. One resident was showing signs of depression, having difficulty engaging and Andrea noticed the resident was sucking on her food. Andrea tactfully asked why this was and discovered the resident's teeth were missing and her gums were very sore. She spoke honestly to the resident about the importance of getting a dental appointment and shared her own personal stories which gave the resident the confidence to visit the dentist. Andrea also arranged for the resident to visit their mum who was in a care home and took a photo of them together to keep in their rooms as a keep's sake.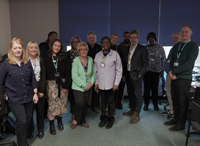 North CMHT Hub - Highly commended
The team went through a tragic event where they sadly lost a colleague whilst at work. Throughout the incident and after, the team pulled together and showed exceptional compassion during a time of extreme distress. Even during the height of their grief, the team continued to share their compassion and kindness, not just each other, but to our service users too by proving an ongoing quality service.